Promoting Swedish Business and Values Since 1986
The Swedish Chamber of Commerce in Hong Kong (SwedCham Hong Kong) is a non-profit, nongovernmental organization with over 220 Swedish and Swedish related companies and individuals. SwedCham Hong Kong was established 36 years ago with a mission to promote and advance Swedish businesses and values while providing a broad spectrum of services to its members. Swedish values such as sustainable, innovative, open, and caring, are guiding principles of the Chamber and embedded in its approach.

Swedish businesses have a long withstanding relationship with Hong Kong and the mainland. SwedCham Hong Kong is a natural hub to bring both established companies and newcomers on the market together.
SwedCham Hong Kong is a dynamic platform – by members for members. With a network of over 220 companies and individuals, from a wide range of sectors and industries such as financial services, logistics, legal, retail, sourcing and production.
Enjoy access to an expanded network within and beyond SwedCham's community
Have the possibility to influence the Sweden-Hong Kong Business Development
Be part of something bigger than yourself through our committees and initiatives
Gain valuable knowledge through informative and up-to-date seminars, workshops, and our academy
Take part in social events and seasonal celebrations and gatherings
Benefit from SwedCham's branding and partner opportunities
SwedCham Hong Kong continuously seeks to understand and channel issues in legalisation, policy, and other areas of high importance, working closely with the other members of Team Sweden in Hong Kong, as well as the European Chamber of Commerce and International Chambers of Commerce to address these issues in the right forum.
Sustainability, as one of SwedChams values and guiding principles, is at the core of what we do. Numerous members are committed to take a leadership role in adopting sustainable business practices. SwedChams sustainability committee serves as a platform to further support and enhance that ambition through position papers, networking, and events.
The Business Climate Survey
The Business Climate Survey (BCS) has been carried out in Hong Kong since 1997. Since a couple of years, the BCS is conducted in cooperation with Team Sweden (the Consulate General of Sweden, Business Sweden and SwedCham). The purpose of the survey is to increase the understanding of the opportunities and challenges that the Hong Kong market holds for Swedish companies. In addition, it serves as a useful reference in the bilateral trade dialogue between Sweden and Hong Kong.
Team Sweden work together on many different occasions to enhance the Swedish influence in Hong Kong and to create new business opportunities. SwedCham Hong Kong is also a part of, and has board representation in, the European Chamber of Commerce. SwedCham further participates in InterCham consisting of 30 international Chambers in Hong Kong as well as the International Business Committee (IBC). IBC provides a sounding board and forum to discuss with the Hong Kong Government on matters affecting the business environment.
The Chamber provides a wide array of events, both of substance and more social- ly inclined events. On a regular basis members can join seminars hosted by Swed- Cham or partners, networking events or trademark Chamber events embedded in Swedish traditions.
Substance &
Knowledge-based
Company visit and seminars with member companies

Let's Meet - open ended roundtable discussions

SwedCham APAC CEO Series

Panel Discussions
Beginner courses in Swedish, Cantonese and Mandarin

Personal Development

Cultural Immersion
Monthly After Works

Diversity Equity & Inclusion Networking Series

Experience Sharing Lunches
Midsummer Celebration

Crayfish Party

Annual Dinner

Swedish Winter and Sancta Lucia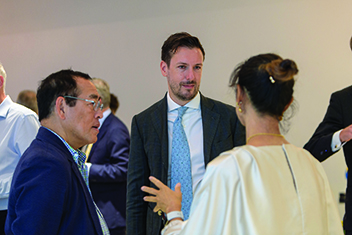 You can be a part of breaking new grounds in areas of societal, environmental, and business interest by joining one of the Chambers causes and/or committees.
The Finance Committee advise the Chamber on financial matters and oversees the organizational budget, in liaison with the Swedcham Office. They provide financial and operational guidance as well as monitoring the financial statement and the revenue.
The Sustainability Committee has a strong track record of successfully working to influence Hong Kong's policy makers for a more sustainable society. It also serves as a platform to support and enhance members sustainable business practices through visits, seminars and other events.
Member & Sponsorship Committee
The Member and Sponsorship Committee seek to recognize and celebrate success stories among SwedCham members by nominating candidates for and determine a winner of the Annual Award. They further work closely with the SwedCham Office to identify and approach new sponsors.
Innovation & Technology Committee
The Innovation & Technology Committee is building on Sweden's global reputation as a leading, innovative technology centre. It is an excellent platform for members to learn more about the latest trends, organize events and other targeted activities. (New for the Fall 2022)
Young Professionals Committee
The Young Professionals Committee represents the young professionals and students by community engagement, leadership development and networking. They organise a mix of affordable social and business events specifically tailored for our members under the age of 30.
Special Projects Committee
The Special Projects Committee support new Chamber initiatives. Its focus this year is securing a sound vetting process of SwedCham members as well as organizing a meeting place for professionals and member companies doing or wanting to do business in Hong Kong.