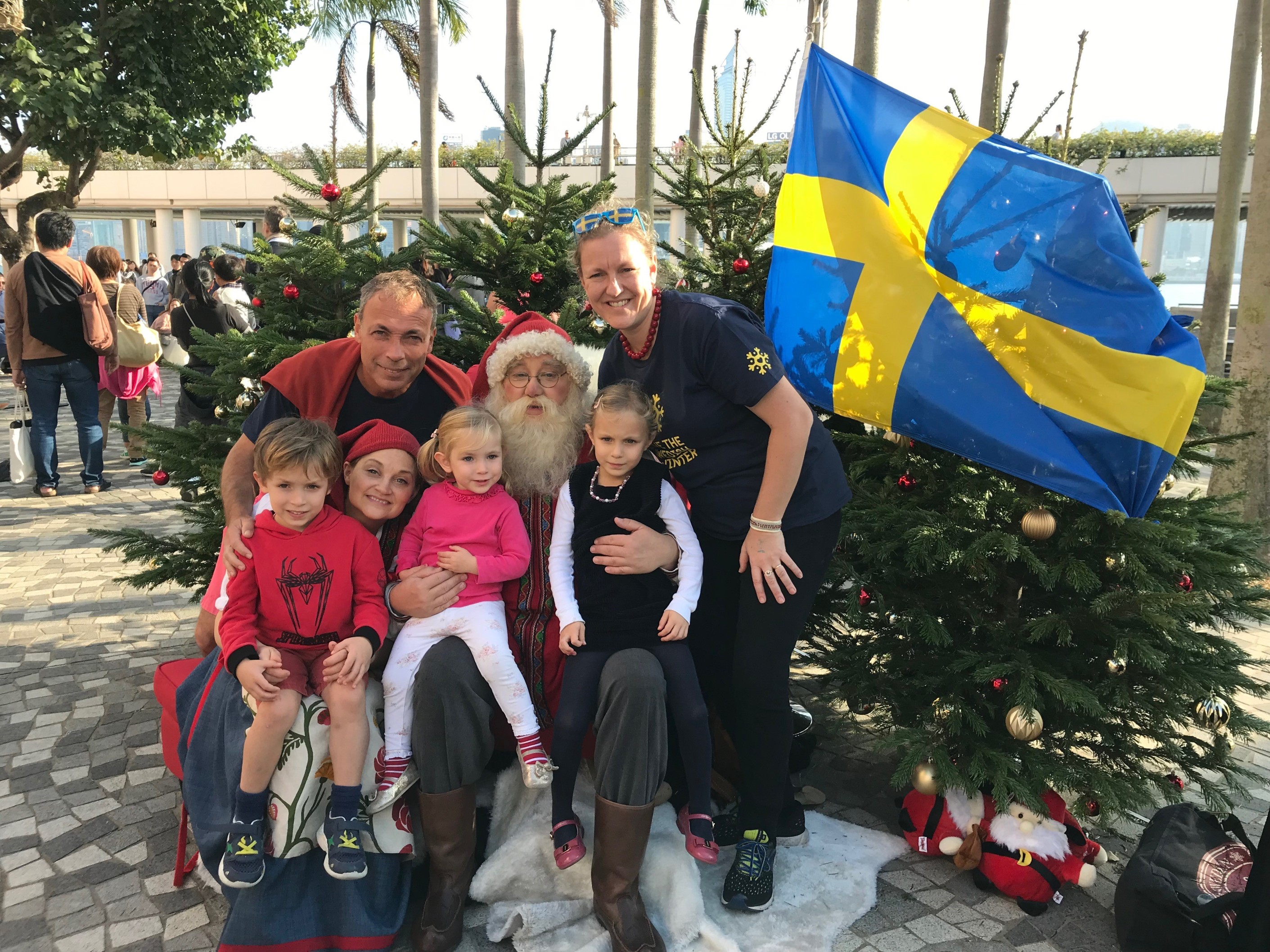 Sweden's consul-general Helena Storm will leave Hong Kong to become ambassador to Colombia this coming autumn after five eventful years in the city.
"When I first arrived in Hong Kong, it was like entering a
science fiction movie with all the flyovers and skyscrapers."
TEXT: Jan Hökerberg
After five eventful years as consul-general in Hong Kong, Helena Storm will, in this coming autumn, pack up her things and move to Colombia's capital Bogotá where she will take up the position of Sweden's ambassador to Colombia, Ecuador and Venezuela.
"It's almost as far from Hong Kong as you can get with 13-hours' time difference," she says. She hasn't been there yet and with the current travel restrictions she might not be able to make the regular pre-assignment trip that diplomats normally undertake before moving to a new post abroad.
"On the other hand, I hadn't been to Hong Kong either before I got my assignment and now I feel it will be very difficult to leave the city," she says.
Helena arrived in Hong Kong in September 2015 together with her French husband Samuel and their then two-year old twins.
One of her ambitions as a consul-general has been to put Sweden on the map and show what expertise Sweden has within innovation, creativity, transparency and sustainability, among other things.
When reminiscing the highlights of her years in the city, she mentions especially the establishment of Karolinska Institutet's (KI's) research centre – the Ming Wai Lau Centre for Reparative Medicine – which was being inaugurated in the Hong Kong Science Park in 2016.
"The centre is KI's first hub outside of Sweden and to be able to locate it here in Hong Kong is a sign of confidence in our international innovative power," says Helena.
She can also reveal that later this year, in November, a so-called Nobel Prize Dialogue is planned to be held in Hong Kong as one of the first cities in Asia to hold such an event besides Tokyo and Seoul. This dialogue is an open, cross-disciplinary meeting which brings together a unique constellation of Nobel Laureates, world-leading scientists, policy makers and thought leaders to discuss global issues.
Helena also highlights some events for the Swedish community in Hong Kong, such as the Lucia celebration in St John's Cathedral, the combined National Day and Midsummer gathering at the PMQ and the Swedish Winter event, which have all been established as annual family activities for Swedish people living in the city.
"These are now regular moments for Swedes in Hong Kong to meet each other but these activities also serve as opportunities for the Chinese to learn more about Swedish traditions," says Helena.
"On a private note, the absolute highlight was when our daughter Chloé was born here in Hong Kong in May three years ago," she adds.
Over the past few years, Swedish representatives in Hong Kong have promoted industries such as food and beverages (F&B), financial technology (fintech) and clean technology (cleantech) in Hong Kong.
"Apart from what has happened lately, we think we have made some good progress by participating in many exhibitions and with visits by Swedish ministers responsible for these areas," Helena says.
"It's part of our mission here to listen to the company's needs and we strive to be present and available by trying to open doors to the local government and creating synergies for our business sector. Our model here with Team Sweden, where we cooperate with Business Sweden and SwedCham, is working very well," says Helena.
The city has also had a royal visit. In 2017, Prince Carl Philip visited Hong Kong together with two business delegations. The aim of the visit was to promote Swedish industry and to highlight Swedish interests within design and education.
"It was his first time as an official delegation leader and it was also the first time that Sweden sent a delegation for educational technology, or edtech, abroad," says Helena.
King Carl Gustav should also have visited Hong Kong in 2018 to inaugurate the Nordic Innovation House (NIH) in the PMQ but had to cancel at short notice. Instead, the Swedish foreign minister, Ann Linde, deputised.
"The idea is that the NIH is a bridge for Nordic start-ups that want to expand in Asia. I hope that the NIH can become another milestone for us in the city when it comes to innovation and creativity. Regarding the situation we are in right now, it is even more important than before that the Nordic countries cooperate," Helena says.
In June 2019, massive protests in Hong Kong started as reaction to the government's then proposed, and later cancelled, extradition bill. The protests escalated in the fourth quarter into more and more violent actions by fractions of the protesters. After the protests slowed down during the Christmas holiday and in January, the coronavirus pandemic hit the city around the Chinese New Year in late January.
"Before, we had a handful of delegations per month coming from Sweden to visit Hong Kong. Now, it has completely stopped because of the travel restrictions," says Helena.
Privately, she and her family were not particularly affected by the protests, but the coronavirus situation is different: "We have three children and we need to keep them at home all day long, which is not so easy. Schools and kindergartens are closed, and so are the playgrounds. It's a real challenge to convince a three-year-old to put on a mask."
Besides Swedish and English, Helena speaks French – which is the language used at home – and Turkish, since her mother is from Turkey. So how about Spanish?
"I'm studying Spanish at the moment. Since I'm fluent in French, I can understand most things I read but to speak Spanish is a different challenge," she says.
There are many things she will miss about Hong Kong, such as access to the sea, nature, the security and the mix of different cultures.
"When I first arrived in Hong Kong, it was like entering a science fiction movie with all the flyovers and skyscrapers. In the first days, I thought it would be impossible to find my way home …" Helena says.
Helena Storm in brief
Age: 43.
Born: In Karlskoga, Sweden.
Career: Master of Laws at Uppsala University; studied political science at Sciences Po in Paris; worked with human rights, war crimes and trafficking issues for Sweden's Ministry for Foreign Affairs; First Secretary at the Embassy of Sweden in Ankara, Turkey; Chief of Staff at Sweden's Ministry for Trade; Consul-General at the Consulate General of Sweden in Hong Kong and Macau.
Family: Husband Samuel, daughter Alizé and son Victor, both six years, and daughter Chloé, three.
Lives: In a flat in Mid-Levels.
Number of years in Hong Kong:Will be five when she moves to Colombia in the autumn.
Best thing about HK: The feeling of dynamism and that everything seems possible.
Worst thing about HK: The inequalities.
Personal motto: Never give up.