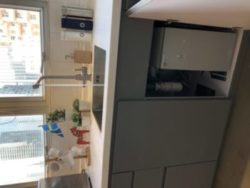 SwedCham HK's Sustainability Platform consists of 15-20 companies, all committed to adopt sustainable business practices in Hong Kong and beyond. We have given the committee members a chance to further explain their ambitions and thoughts on the subject. Their views will be presented as a series of sustainability stories on our website during the coming weeks. Our first story comes from Viggo Ljungqvist, head of APAC at Bluewater. Bluewater produces water purifiers which eliminate the need for single-use plastic bottles and unnecessary transportation.
How would you describe the way you work with sustainability in your company today?
– As part of Bluewater's mission we work daily to reduce single-use plastics. Therefore, we naturally use our Bluewater Pro water purifier in our office kitchen, in order to eliminate the need for single use plastic bottles and minimize our carbon footprint. By using a Bluewater water purifier we are not only improving our own health, but also the health of our planet. Bluewater delivers pristine drinking water purified, made on site, free of micro plastics, heavy metals, chlorine, and other water borne pollutants.
Tell us about your own journey within sustainability!
– I am grateful to get to work with sustainability, more specifically reducing plastic waste on a daily basis. I've been working at Bluewater for 2 years now and truly enjoy working hard on making a change for the better, in a positive and hopefully inspiring way.
What made you join SwedCham's Sustainability Committee?
– Sustainability is vital part of Bluewater's core business and we always aim to make a difference. Hence, being part of SwedCham's Sustainability Committee was a very natural and given choice. I was introduced to the committee by my colleague Magdalena Ranagården, and I am very happy to be part of a group who shares the same vision and who want to make a change in Hong Kong.
How would you like to help make Hong Kong and the world more sustainable?
– First and foremost, reducing single-use plastics by purifying water on site, eliminating the need for single-use plastic bottles which is one of the biggest sinners in terms of plastic pollution. Hong Kong discards 5,2 million single-use plastic bottles daily.
I further believe it's highly important to bring companies together finding new innovative solutions that can truly make a change for the better.