SwedCham HK's Sustainability Platform consists of 15-20 companies, all committed to adopt sustainable business practices in Hong Kong and beyond. We have given the committee members and other friends of SwedCham HK a chance to further explain their ambitions and thoughts on the subject. Their views are presented as a series of sustainability stories on our website every week. This week's story comes from Linda Wang, Sustainability Manager at IKEA North Asia.
How would you describe the way you work with sustainability in your company today?
– I am the sustainability manager of IKEA North Asia (Taiwan, Hong Kong and Macau). My job is to provide strategic and dynamic leadership working through and across the business to facilitate the delivery of the IKEA sustainability, People & Planet Positive, strategy across the entire organization to enable the ongoing transformation and growth of the IKEA business.  I am also the sustainability spokesperson both internally and externally on behalf of IKEA North Asia to create strong movement towards reaching our sustainability ambitions and goals.
 Tell us about your own journey within sustainability!
– It began from my childhood. I was a girl who paid extra attention to human rights, animal rights and the environment. In my twenties, I spent most of my time in field work on humanitarian aid, and later I was working as the CSR manager in a major retailer in Taiwan. Today I am the Sustainability Manager of IKEA. I am thankful for the opportunity to work for a big brand, and I firmly believe, "with great power comes great responsibility." With IKEA's scale, influence and partners, we will make positive impact for many people.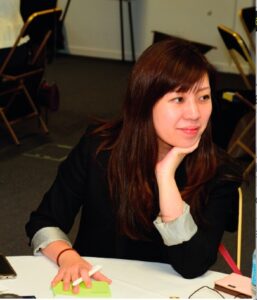 What made you join SwedCham HK´s Sustainability Committee?
– Thanks to Adrian Worth's invitation (Managing Director IKEA North Asia), I am pleased to join SwedCham HK's Sustainability Committee. I've been told that SwedCham HK's Sustainability Committee plays a major role to drive sustainability agenda in HK, thus I am very looking forward to being part of it.
How would you like to help make Hong Kong and the world more sustainable?
– The IKEA vision is to create a better everyday life for the many people. We face many challenges nowadays, such as climate change, and COVID-19 has provoked radical changes in our way of living and new ways of building communities. We need to come back to our everyday activities, however, we should decide a new HOW that is more sustainable and caring for the people and the planet. In regards to this, IKEA wishes to make contribution through two main ways:
(1). Innovation: in every possible area, we challenge ourselves to shift into a more advanced innovative stage by integrating sustainability into the core of the business in ways that transform the company.
(2). Co-create and collaboration: Our ambition is to inspire and enable 1 billion people to live a better everyday life within the limits of the planet by 2030. And we know by heart that we cannot achieve the goal by ourselves. I'd like to quote our founder," Most things remain to be done, a glorious future." SwedCham HK serves as a very good opportunity and platform for us to co-create solutions, and I believe by doing so, we could create a better and a more sustainable future.