Combining Sweden with Hong Kong should foster a great startup environment. Sweden has a long history of innovation and entrepreneurship and Hong Kong is regarded as a global startup hub. Hong Kong's proximity to Shenzhen and integration to the Greater Bay Area has facilitated great prerequisites for start-ups in the city to flourish.
SwedCham HK has several interesting startup members and entrepreneurs with very different backgrounds. We aim to tell their stories and showcase their work. A series of articles under the name SwedCham Startup Insights is published on our website. This week's story is about the Nordic Innovation House Hong Kong, a unique Nordic collaboration and community platform – with its purpose to support Nordic startups in Hong Kong. We sat down with Binh Johansson, Community Director of the Nordic Innovation House.
The Nordic Innovation House is a community platform that accelerates high-quality Nordic tech startups, scaleups, and growth companies in some of the most important innovation ecosystems in the world. The Nordic Innovation house helps to internationalize Nordic companies and brings Nordic innovations to new markets. As part of this endeavor, they also export Nordic values (of trust, equality, sustainability, innovation, and openness) to the rest of the world.  The house is a unique collaboration between the Nordic countries and is backed by the Nordic Council of Ministers.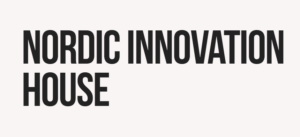 Why was the Nordic Innovation house set up in Hong Kong?
"The Nordic Innovation House was set up to help Nordic startups and provide professional advice on how to promote Nordic technologies.  The Nordic Innovation house also helps Nordic companies to team up with local academia, research centers, and industries.
Nordic Tech Startups and Scaleups that want to explore, get to know and understand Hong Kong and the Greater Bay Area are most welcome to join activities and events hosted by the Nordic Innovation House. Nordic SME tech companies that want to export and sell their products and services to Hong Kong and Greater Bay Area and the rest of China are also welcomed to tap into the Nordic Innovation House's network and become a part of our community. We were set up to help them."
What do you find unique about Hong Kong and the Greater Bay area?
"Hong Kong and southern China are one of the most dynamic and explosive regions in the world. The Greater Bay Area with its affluent and tech-savvy people is a perfect place for Nordic innovative companies to expand their international presence.
One of the key components of the Greater Bay Area development during the last decades has been a strong focus on infrastructure, including the expansion of airport capabilities, a large-scale bridge, new ferry routes, the high-speed trains, smart & sustainable cities and urban tech development, that create an expansive world-class mega-hub. All this to facilitate the easier and efficient movement of people and goods, which makes this area the perfect place to launch Nordic tech startups and scaleups that covers almost all verticals.
Hong Kong with its 7.8 million people, a cosmopolitan environment, and a well-developed commonwealth law system and the Greater Bay Area with its 71 million people are ideal for Nordic companies looking to deploy their technologies. Hong Kong as one of the worlds´ financial center, with easy access to money, and the gateway to China, has a unique advantage compared to other financial centers in the world
Together, Hong Kong and the Greater Bay Area provide a platform for Nordic companies with smart mobility, connectivity and urban development technologies looking to develop innovative projects in the region. Another competitive feature with Hong Kong and the Greater Bay Area is part of the world´s manufacturing hub, where companies worldwide can engineer and manufacture a product within a very short time. Add on Shenzhen, China´s Silicon Valley, and you have this area´s unique competition strength."
Have you encountered any challenges in doing business in Hong Kong, compared to elsewhere?
"The continued spread of the Coronavirus has caused major challenges to all countries in the world. While the spread has slowed down dramatically in places that experienced the outbreak early on such as China and South Korea, the continued spread and difficulty to handle it on a global scale means that it is likely to continue to pose a risk to more traditional ways of conducting business.
For Nordic companies thinking of expanding and/or keeping their business going, the most important risk of the ongoing pandemic is that it may result in difficulties in organizing and carrying out the planned contract and services.
Hong Kong has been especially prudent when it comes to engaging in society-wide measures against the Coronavirus. While this has been successful in terms of keeping the rate of infection down so far, it has also made it difficult for international travelers to visit Hong Kong and the Greater Bar Area to conduct business.
Another challenge, specifically for Hong Kong has been the issue of how to handle the increased political unrest. Starting in June of last year, Hong Kong has experienced frequently occurring protests against the government. During a short period, these protests intensified to a level at which it affected everyday life in the city. While never posing a threat to visitors, the protests posed a significant problem for both business travelers and regular people visiting as part of their holiday. The scale and intensity of these protests have subsided since late 2019, in particular after the Coronavirus started to spread.
Since July 1st, China imposed the National Security Law for Hong Kong and how this law will affect businesses is not clear yet. What we can do now is to monitor the law together with Covid19 outbreak and see how this affect international business in the long run."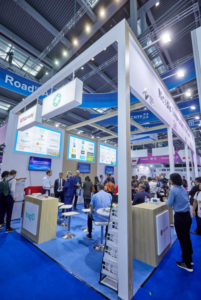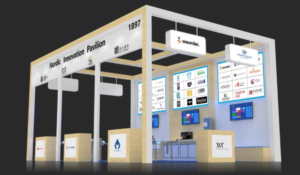 Nordic Innovation House's Pavilion, a great place to showcase your company to clients and investors at different events.
To finish, we asked Binh if she had any advice for new startups or businesses considering setting up in Hong Kong. As a representative from an organization with a mission to help and guide Nordic Startups in Hong Kong, She had a great deal to say. She for example suggests new startups to join the events organized by the Nordic Innovation House. Additionally, The Nordic Innovation House can help with connecting Nordic startups with local supporting partners.
"The Nordic Innovation House in Hong Kong is a community platform that should be used as a soft-landing platform for startups and scaleups to tap into the region's startup ecosystem. All companies that are on an expansion mode and want to export products and services to Hong Kong and the Greater Bay Area should have considered a full China strategy plan before entering the market. Hong Kong is a good start as a stepping stone into China.
Starting and register a company in Hong Kong is very straight forward. It costs you around 10 000 HKD and takes 3 working days and you are up and running. For startups and scaleups, think of what you need before you join programs, activities or programs and setting up your businesses.
For more advice and help. Startups and Scaleups can visit one of the Nordic Innovation House's events. For example, the China High-Tech Fair (CHTF) in Shenzhen. This is a great event and opportunity to get to know the area and China and to have a feel for the fast-paced Chinese startup community. For startups that have been here before, plan your trip and use the Pavilion as a landing spot to conduct your sales and investor relationship meetings.
The Nordic Innovation house can also together with local supporting partners in the region help out with introducing investors, locating sales partners, finding customers"
To learn more about The Nordic Innovation House in Hong Kong, visit https://www.nordicinnovationhouse.com/hongkong or contact Binh at binh@nordicinnovationhouse.com