SwedCham HK's Sustainability committee consists of 15-20 companies, all committed to adopt sustainable business practices in Hong Kong and beyond. We have given the committee members and other friends of SwedCham HK a chance to further explain their ambitions and thoughts on the subject. Their views are presented as a series of sustainability stories on our website. As a part of the Sustainable fashion days initiative, the sustainability stories will focus on sustainable fashion in the coming months – voicing the opinion of SwedCham's members within the fashion industry.
To read more about the Sustainable fashion days initiative, visit https://www.swedenhk.com/sustainable-fashion-days/
The Swedtalks on sustainable fashion can be found here
This week's contribution of the sustainability stories is from Karin Lundholm, founder of Once a day. A modern lifestyle brand offering Made To Measure suits and shirts along with Italian produced accessories and Japanese denim and socks.
Can you briefly tell us more about your brand?
– The brand is inspired by sophisticated minimalism, Swedish design heritage, bold decisions, and the pursuit of the perfect. The signature  Once a day design is defined by a meticulous attention to sublime and innovative fabrics paired with a great fit. Our users are confident that they are wearing carefully sourced goods made specifically for them and their needs.
For how long has your brand been present in HK?
– I have been based in Hong Kong for the past 4 years and in January we opened up the once a day studio in Hong Kong's Poho area, to better serve our growing community of Hong Kong users. I position us as a user-driven brand, and the studio is a nice opportunity to further elevate the user experience and it shortens the user feedback loop for new product development.  Having a studio or a showroom has made it easier to meet users through our "by appointment only" strategy which democratizes a high end and high touch user shopping experience that is normally only offered to the selected few.
What is sustainability for you?
– Sustainability for me and once a day is a holistic approach that is expressed in everything we do –  from material selection, production process, work environment, traceability and consumer usage. As a small brand, we must think big and work smart. It has sometimes been a challenge to remain sustainable in an industry that focuses more on volume rather than quality but we have been able to navigate and understand how we as a small player still can operate in a sustainable way. Being sustainable is not only about the production and working environment but also about creating less waste, and moving away from fast fashion producing garments.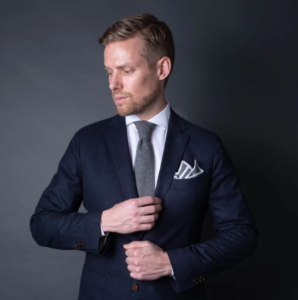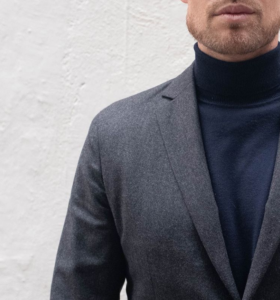 How does your brand work with sustainability today? Which are your focus areas?
– High quality and sustainable fabrics have always been important to us. Early on, we did experience the difficulty to achieve this as the industry would require brands to order vast quantities without any real guarantee/visibility of the entire supply chain (eg. the supplier's suppliers). We, therefore, opted to work with fabric producers that can offer certifications of all their work, that have a track record of trust and experience and that are willing to partner on lower volume orders. As an example, we are collaborating with REDA and Vitale Barberis (Italy) for our suit fabrics and they have a verified sourcing process through the SustainaWOOLTM program . Both are fabric brands with a long and trusted history.
Starting in Vietnam, I early learned that one has to visit your suppliers not only to build relationships but to also gain a sense of the overall process and the situation for the workers and the environment from where the products are made.  As a small player, no suppliers will start working sustainable just for you, so we select those that already have this practice in place. A good way to secure this has for us been to select those that work with other larger or premium brands that we know have rigorous legal documents in place. In this way, established brands have an important role to play, leading the way in moving the industry to become more sustainable.
Once a day as a brand is founded to offer long-lasting garments and we believe in quality before quantity. A garment can only be sustainable if it can be worn and washed for a long time. Our Made to Measure process is all about offering our customers something they WANT and CAN use for a long time.  By investing in a great fit, great materials that breathe and a mindful purchasing process, our users care for their products and really extend the lifecycle. Another example is our socks, developed not only for comfort and design but also with "wear-ability" top of mind.  Our woolen socks can be washed in 40 degrees and still retain their shape and character for a long period of time. We ask our users to shop smarter and in a mindful way, to invest a bit more time and money in the process in order to reduce wasted resources.
'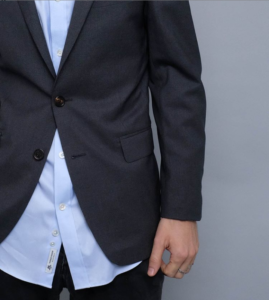 Which are your biggest challenges?
– The biggest challenge for us is still to find suppliers for fabrics that can produce high-quality fabrics in low volumes and with a traceable supply chain.
Where will you (as a brand) be in 5 years?
– We see our selves continuing to be the lifestyle brand we are today with a much larger community of users investing in Made To Measure and high-quality garments. In the coming year, we will focus on Hong Kong for studio appointments and Europe/US for our online shop with accessories. At the end of the day, it's important to have a great omnichannel experience.
Which brands do you think are the best role models within sustainable fashion?
– I think different brands are playing different parts. H&M is one of the larger players that take responsibility and improve many parts of the production and industry, but at the same time, they also have a model built on more and more consumption.  Another Swedish brand I like is ASKET. They have the target to trace all materials and what their goods are made of, and at the same time be transparent towards their consumers.